Hiking Katy Trail

Visiting Rock Island Spur

Tent Camping

RV Camping

Fishing
at Farrington Park
No matter what you are searching for... you can find it at Farrington Park.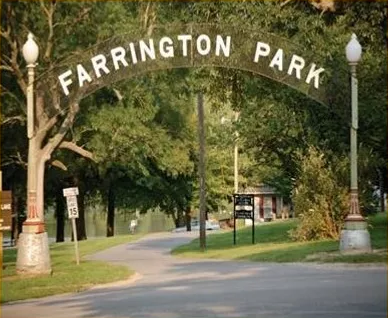 In April 1900, local Windsor businessman Ed Willoughby had a vision. Windsor needed a lake and park. A place where, in the summer, people could boat, fish, swim, picnic, hold gatherings and, in the winter, a place to cut ice.
In late 1903, the Rock Island railroad was building grade and laying tracks headed for Windsor from the east side of the state and on to Kansas City. By late March of 1904, it was reported that the work on the big reservoir east of Windsor would be completed in a few days. Within a month's time, Ed Willoughby had met with General Superintendent W. E. Morse of the Rock Island railroad and he consented to allow the town citizens to take charge of the grounds and reservoir for the purpose of converting them into a first-class pleasure resort. The railroad only needed use of the lake to supply water for their stream locomotives. Windsor became the proud owner of its City Park and Lake on July 25, 1954. On this date, J.W. Barriger, Vice President of the Rock Island Lines, officially turned the park over to the city in a ceremony held at the park. The park was officially named "Farrington Park", honoring J. D. Farrington, the Rock Island President.
Fast forward to today. Farrington Park, often referred to as the "Crown Jewel of Windsor", is used for many of the City's festivities, including the Fourth of July celebration, a lighted Christmas display, family reunions, weddings, and many other occasions. The Katy Trail is a short distance from the park and the new Rock Island Spur of the Katy Trail runs adjacent to the park.
Farrington Park Lake is on a tributary of Elm Branch River in Pettis County, Missouri, with a normal surface area of 15 acres. Farrington Park Lake Dam is of earthen construction, rock fill. Its height is 26 feet with a capacity of 209 acre feet and normal storage is 85 acre feet. It drains an area of 752 square miles. The Missouri Department of Conservation, in cooperation with the City of Windsor, monitors the lake, restocks fish as needed and makes recommendations on maintenance of the lake.
Camping at Farrington Park
The Katy Trail is a short distance from the park and the new Rock Island Spur of the Katy Trail runs adjacent to the park. The campground has established sites for camp trailers and motor homes. Camp amenities include water hookups, electricity, a restroom with showers, sewer hookups and a sewage dump station. We accept cash, PayPal, debit cards and credit cards. Please pay using one of the links below. You can reserve an RV spot or check available reservations by clicking on the RV Camping menu.
At Farrington Park our RV sites are $20.00 per night and include water hookups as well as 30amp, 50amp, and 110 Service Electrical Hookups and Sewage Connections. We can easily accommodate RVs and 5th Wheel Trailers up to 50' in length. When you arrive for your stay, please call (660) 647-3130 for the codes to the shower houses and the WiFi password. Click Here to view a Map of the park.
We have plenty of space for tent campers, even allowing for social distancing and there's no need to reserve a spot. You may pre-pay for tent spots using the Tent Camping link in our menu. The code to access the showers and the Wifi password will be emailed to you when we receive your payment. RV sites are $20.00 per night and tent camping is $10.00 per night, per tent. Tent camping sites are behind the restrooms and shelter house on the same side of the road as the RV sites. This is across County Line Road from the lake. Click Here for a map. Please be aware that the shower house and restrooms will be sanitized once per day, in the mornings.
Please call (660) 647-3130 if you need further information.
We are so pleased to welcome you to Farrington Park... Happy Camping!
Join Our Newsletter
Interested in receiving information about local happenings at Farrington Park? Sign up for our newsletter below and stay up to date on what we have going on.
Fun Facts about Farrington Park
Farrington Park offers many amenities for both camping and day recreation enthusiasts alike.